My wife and I have been fortunate to have travelled extensively before having kids. Not only have we lived in four countries across three continents but we've also visited many different countries besides. After spending around eight years in the Netherlands and then six years in Florida, we decided to sell up and embark on a once-in-a-lifetime journey of aimless travelling around the world.
Our first jaunt was to Africa and the Middle East, which took around three months. We then bought an old camper van and spent the next several months touring around the British Isles. After that, We did a complete circumnavigation of the globe, which took around another eight months. Yep, we've seen more things and been to more places than most people could only ever dream of.
Life is pretty good for us now that we've settled in Australia, it has to be said, but I often sit and wade through the 37,000+ photos that we took during the nearly two years of back-packing - pining for those days when we had nowhere to be, no schedule to keep, no specific destination to reach - just waking up in the morning and saying things like, "OK, how about we go to...Namibia today?"
People often ask me what's my favourite country. Well, come travelling with me now, as I explore that question in more detail.

1. South Africa
Wonderful people & amazing wildlife
I'm often asked if there's just one country that I could return to, which would it be? It's such a difficult question to answer, since so many countries are special in so many different ways. How can you compare, for example, the majestic glaciers of New Zealand with the standing Moai of Easter Island, the Awesome beauty of the Galapagos Islands with a lion kill in Africa, or the jaw-dropping pyramids of Egypt against the world beneath the waves seen only with the aid of SCUBA apparatus in Thailand. If pressed, however, I think I'd choose South Africa as my one-place-to-go-back-to. Why? Well for a number of reasons. Firstly, South Africa was the very first country on our round-the-world tour. It was our first foray into the world of travelling and it holds a special place in my heart for that reason. But more than that, the sheer thrill of experiencing so much wildlife cannot easily be explained. Add to that the truly wonderful and warm nature of the people of South Africa and it makes for a recipe that's a tough act to follow.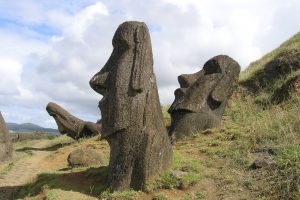 2. Easter Island
Standing Moai & the sense of isolation
When I first developed the idea of doing a round-the-world back-packing journey, one of the very first places on my must-see list was Easter Island. One of the most remote pieces of land there is and located smack bang in the middle of the Pacific Ocean. Not only is it the most remotely inhabited island on the planet but it's also steeped in mystery with the enigmatic Moai. These stone carvings litter the island and are among the most bizarre things I've ever seen.
The island, formed from three now extinct volcanoes, is also known as Rapa Nui, which is also the name of the local language that most of the 4,000 inhabitants speak. I loved it there for reasons not easily put into words. There's an eerie sense of isolation you get from just being there.

3. Thailand
Just as amazing below the water as above
There are plenty of reasons why Thailand makes my top-10 list. First, it's a very cheap and easy destination. There's a terrific back-packers trail and the entire country is set up very well for travellers. There are plenty of places to stay and transport options are very good. The people of Thailand are so incredibly nice and accommodating. Nothing is ever a bother and everyone is always warm and friendly.
We enjoyed Thailand so much that when our 30-day visa expired, we left the country for a few weeks (we went to neighbouring Cambodia) and came back again for another 30 days.
Most of our time in Thailand was spent below the waves. We had learned to SCUBA dive whilst in Egypt in the Red Sea and put our PADI Advanced Open Water qualifications to very good use in Thailand. Not only did we spend days on end diving whilst at places like Koa Tao, Koh Lanta & Khao Lak, but we also did two liveaboards. Each of these involved us spending three days and nights on-board a SCUBA diving boat with about a dozen others and doing anywhere from three to five dives a day. Our first was a tour around the Similan Islands and the second the Surin Islands. We were both thoroughly knackered after each trip but the unbelievably awe-inspiring things that we saw beneath the waves defies belief.


5. Egypt
Temples, Pharaohs & the river Nile
By the time we reached Egypt, we were already seasoned travellers. Despite this, Egypt turned out to be one of those places where we suffered from culture shock - a real condition with real physiological symptoms. I suppose the best way I can describe Egypt - and Cairo in particular - is a controlled car crash that never ends. The cacophony of sights and sounds just completely overwhelmed our senses and it took a while for us to adjust.
Adjust we eventually did and this is when Egypt came alive for us. There are so many impressions of Egypt that it's hard to know where to begin. Perhaps the most obvious are the pyramids and Sphinx on the Giza plateau. We were lucky enough to be allowed inside one of them. Like many of the temples up and down the Nile river, the walls on the inside are peppered with absolutely stunning carvings of hieroglyphs.
Egypt has many faces and we saw several of them whilst there. We spent five nights travelling on one of the many cruise ships that whisk tourists up and down the length of the Nile. Each new day saw us stop at another new temple and we'd explore them as we made our way down the river. The temples of Karnak, Luxor, Edfu, Kom Ombo and the Valley of the Kings are truly sights to behold but the real gem was after a several hour drive through the desert to the stunning temples of Abu Simbel.

6. New Zealand
Glaciers & whale-watching
With it's temperate climate and culture not too dissimilar from that where I grew up, New Zealand was a very pleasant and easy country to travel through. The sheer beauty of New Zealand is matched only by it's diversity of things to see and do. You can be lying on a beach sunning yourself in the morning and scaling a glacier that same afternoon.
The nutrient-rich waters off the east cost of New Zealand make it an ideal feeding ground for whales and we did our fair share of whale-watching whilst there. Not only did we take the speed boat whale watching tour but we also saw whales from the air in a helicopter.
The South Island was memorable mostly for the wildlife and glaciers, whilst we enjoyed the hot springs and geysers of Rotorura on the North Island.
New Zealand boast some of the very best museums to be found anywhere on the planet and the Te Papa museum in Auckland tops the bill. It's truly an amazing place with so much variety and interactive exhibits that I lost myself in there - figuratively and literally.

7. Cambodia
Water festival & the temples of Angkor Wat
Cambodia was only ever intended to be a quick escape out of Thailand so that we could come back again and spend more time there but it turned out to be one of the jewels in our back-packing crown. You will never find a more incredibly warm, resourceful or resilient people than the Cambodians.
It just so happened to be the time of the annual water festival when we rolled in to Siem Reap, and we spend the better part of a couple of days just revelling in the festive atmosphere and watching the curious long boats laden with a single row of people all racing each other up and down the river. Many of the boats sat perilously low in the water and several submerged part way through the races. It was such a treat to sit on the riverbank and just watch all the activity.
Siem Reap is, of course, home to the temples of Angkor Wat, the principal reason we travelled to Cambodia. Situated in the middle of a jungle and overgrown with banyan trees, these enigmatic temples do battle with time and the jungle literally growing right through them. After a trek through the wilderness to see these marvels of an era long since past, there's nothing quite like having a local expertly slice open a coconut and fashioning a spoon from the shell so that you can scoop out the deliciously sweet innards and then sucking the liquid through a straw.

8. British Isles

Castles & ancient monuments
Despite having grown up there, I still think England and the other countries of the British Isles, Scotland, Ireland & Wales, all deserve a mention on my top-ten list. Something I've learned as I've travelled around the planet is that most people rarely get to explore their own back yard. It's always there and so there will always be another opportunity to visit but surprisingly few people actually ever do.
Britain and the western isles of Europe are steeped in so much history it's hard for most people to comprehend. I've worked in buildings older than many countries. Not only are the rolling hills and surrounding countryside just breathtakingly beautiful but there is just so much to explore. We particularly enjoyed visiting all the castles and other ruins from centuries - and even aeons - long since past but not forgotten.
Our jaunt around the British Isles took place in a second-hand camper-van, which we picked up just for the purpose of travelling. It had the aerodynamics of a wind-break but it kept us warm and with a safe and secure place to sleep as we moved around. Places like Stone Henge, Salisbury Cathedral, Warwick Castle, the Lake District, the Ring of Kerry and so many other places I could mention are all worthy destinations in their own right. We spent about three months touring around the isles but could easily have spent another dozen and still missed plenty.

9. India

Temples & fascinating cities
Such a vast place, any attempt to describe India in any meaningful way will almost by definition be incomplete and a hopelessly lost cause. The several weeks we spent travelling around India were mostly contained to the north west and the Rajasthan region. Each place we visited was a unique and wonderful experience. Some of the many highlights for us included the Taj Lake Palace at Udaipur, the blue city of Jodhpur and the stunning architecture of Jaipur and Jaisalmer
India was not the easiest place to travel through. We were struck by the level of poverty everywhere we went and it was hard going at times. The oppressive heat, heavy rains at times and the sheer numbers of people all added up to a bit of culture shock for us, but I still have many fond memories of this place and its peoples.
Indian people are also very friendly and welcoming. I was particularly surprised at how just about everyone had a brother-in-law or cousin that could get a train ticket or find something we just happened to be looking for. It seemed like everyone we met was an opportunist of some kind but it's all a part of the experience.

10. China

Great Wall & Terracotta soldiers
It has to be said that China was a very difficult place to travel through but I'm so glad we persisted. One of the principal reasons is the language barrier. It's hard to overstate the convenience of being a native English speaker when travelling, as this is the language we encountered the most and by far. Perhaps that's more of a reflection of the choice of countries we visited but when it came to China, we knew life was going to be tough, since the overwhelmingly vast majority of people we encountered were not English speakers. Even in non-English-speaking countries, a convenient English speaker to help translate would never be far away, but that wasn't the case in China and we were sometimes reduced to being simply unable to effectively communicate our wants or needs to each other.
China is very much like India in its vastness and variety of sights, sounds and experiences to offer. We started our Chinese expedition in Hong Kong. Hot on the heels of India, the contrast that confronted us in Hong Kong was like day and night. In one fell swoop we went from depths of poverty to the heights of capitalism and affluence. Culture shock smacked us hard in the face but there's just something about Hong Kong that made me feel safe and secure.
We left the comfort and security of Hong Kong and ventured into what would be a much more challenging experience in mainland China. We only had a few weeks to take as much in as we could, so we started in Beijing, where we explored the Great Wall, and made our way across the country in a south westerly direction. Along the way, we took in the magnificent Yungang grottos and hanging temple of Datong, the Terracotta Army in Xi'an and the panda breeding centre of Chengdu.

There are so many other countries I could have mentioned. It's so hard to narrow things down and I wish I could have mentioned them all.
So, what do you think of my list? Are any of these countries places that you've been to? What would your top-10 look like?