Day 1 – getting there
Friday 2nd December 2016
In times past, any holiday or journey away from home would have been meticulously planned to the nth degree. The route would have been scrutinised and the list of things taken checked and re-checked days prior to departure. Nothing would have been left to chance. As life with kids has slowly but oh so surely taken its toll, however, I've now developed…let's just say a more mellow approach to getting ready for a trip away from home. I think I can sum it up nicely by saying that right up to about eleven o'clock last night, the evening prior to departure for this latest family week away from home, not only had I no idea of exactly where we were going, but the extent of my packing was little more than a few things thrown into a plastic supermarket bag.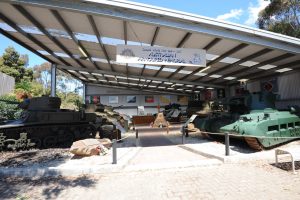 Despite the lack of preparation – at least on my part, Sandy has been slowly getting read for this trip for some days now – we made it into the car laden with 'stuff' having lost only about half an hour off the very roughly planned schedule. The idea was to leave the house at 11:00am but we were actually on the road by 11:30. Pft. Now, I do enjoy travelling, don't get me wrong, but travelling with Sandy and the kids nowadays is…well…in need of careful preparation. The truth is that Sandy hates driving any sort of distance. Five minutes is fine. Fifteen minutes can be done if need be. Half an hour starts to become difficult already. An hour is already problematic. Anything over an hour and I know I'm going to meet with some serious resistance. I remember the last time the family spent a long time in the car. For the first two hours, all I could hear was 'Are we there yet?', 'Are we there yet?', 'Are we there yet?'. On and on it went…   incessantly…relentlessly…drilling into my skull, until I could bear it no longer. Eventually, I turned my head and shouted. 'Sandy, will you just stop it! You're upsetting the kids!'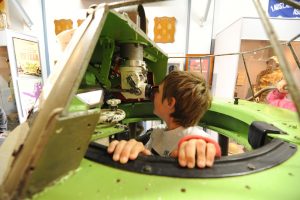 Today's journey would see us clock up almost four hours of driving time. OK, so that's realistically a potential disaster just waiting to happen. We're a strong family and I think we can weather the storm BUT I wanted to head off any difficulties so I decided to prepare some games to help keep the kids occupied throughout the journey. We were about, oh, 20-25 seconds into the journey before the 'I'm bored' parade came out in force.
Me: OK, kids, who wants to play travel bingo?
Kids: That's boring!
Me: No, this'll be super fun.
Kids: Sigh. How do you play?
Me: Here you go, take one of these specially prepared Bingo cards each that I whipped up last night. It's a 5x5 grid full of 25 different things you can spot along the way (train, car, horse, stop sign, skyscraper, sheep, man with dog, fruit tree, etc.). Each time you spot one, cross it off on the grid.
Kids: That's boring!
Me: Ah, but each time you get 5 in a row, that's 10 points!
Kids: So?
Me: You can redeem points for cash.
Kids: …
Kids: How much cash?
Me: Each point is worth 50c
Kids: hmmm
Me: You can use any money you earn to buy Internet time when we get there, as there's no Internet otherwise. Every 3 dollars earned can be used to buy 1 hour of Internet time.
Kids: Wow, this is a great game. Can we play now?
Me: (thought internally) Parenting level – one thousand!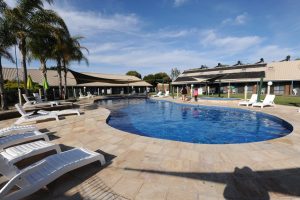 Fortunately, the travel bingo and several other games I had prepared did wonders to keep everyone occupied for probably the first two hours of the journey. By this time, we had reached the first stop along the way to break up the journey – the tank museum just outside of Seymour. It was at this point, that the first of the 'left behind' items became evident. As we were getting out of the car (an arduous event in it's own right, but I digress), I asked Joey to put his shoes on. 'Oh, I forgot to bring them'. I took a deep breath and walked away from the car.
The detour to the tank museum turned out to be quite a success in the end. Not only was it a very interesting place, but the kids both enjoyed it quite a bit and the mood had pepped up again as a result.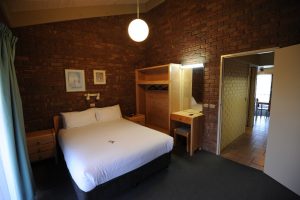 Joey is still sporting a couple of ear infections and he was starting to get a bit groggy from the irritation this was causing him. We're currently toting the usual anti-biotics for this problem and it's something we're having to keep an eye on over the coming days.
After another hour on the road, we stopped off for a bite to eat and to stretch our legs before the final push through to Yarrawonga and the Murray Valley Resort. The very lovely Vanessa and Scott had graciously arranged for us to take advantage of a timeshare stay at a mere fraction of the going rate for such things. The holiday was booked a few weeks back but very nearly didn't come about owing to a recent family bereavement.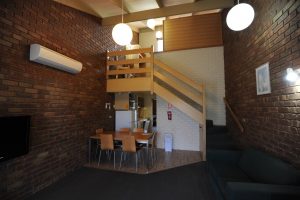 I won't go into the details here but suffice to say, this holiday hung in the balance right up to literally a few hours prior to departure.
Up until a few months ago, I had an extension cable that allowed me to plug my iPhone into the holder sucked against the windscreen. This allowed me to watch the TomTom sat nav app on my iPhone without distraction. Unfortunately, that cable broke and I'm now having to rest the iPhone in the cup-holder between the seats. It's still quite functional but it means I have to consciously remember to cast a gaze at the phone from time to time to make sure I'm still following the directions correctly (I typically have the spoken audio muted). During the final push into Yarrawonga, I happened to glance down at the phone and realised the app was telling me to do a U-turn – the tell-tale sign I had missed an instruction to turn off somewhere.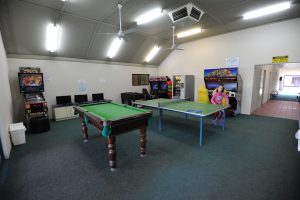 The great thing about TomTom is that it eventually just re-calculates on the fly as needed and we eventually ended up following what may very well have been a completely different route to our final destination. Regardless of how much time we may have lost as a result, we did finally pull into the resort by around 5:30pm.
A lovely lady at the check-in was just finishing off chatting with another guest when I walked into the office. She was telling him that Internet here is not free and that each half hour was $3. Hmmm. Not to worry, as we can tether our electronics to either of our phones. I just need to remember to convince the kids to spend their money elsewhere rather than on Internet time. Ah well, there go my parenting points. Anyway, the check-in formalities were rather painless and I got some information about the various activities and places to go around these parts.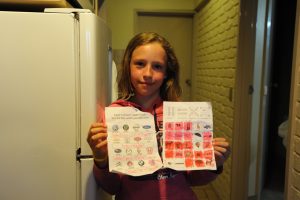 Our unit is the one immediately next to reception so I re-parked the car all of three metres further and we piled out to explore our new surroundings.
First impressions are very good indeed. We have a lovely self-contained two-story unit with a downstairs bedroom (with a queen sized bed), living room, kitchen and bathroom, and an upstairs open bedroom where the kids each have a single bed. The unit itself is well appointed and everything necessary for our comfort over the coming week is right here. Farther into the resort, which is literally out the back door, we found a very nice outdoor swimming pool, hot tub, BBQ pits, neatly manicured lawns, games room, indoor swimming pool, tennis courts, mini golf, playground and a whole heap more. The kids have instantly fallen in love with the place and this means both Sandy and I will be able to simply relax – which means half the battle is already won.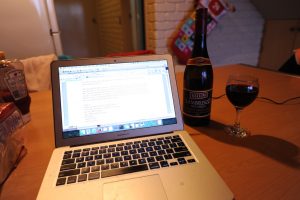 We spent a good hour familiarising ourselves with the place and taking photos of everything before I took a trip into the nearby town for a spot of supermarket shopping – this was after the obligatory dip into the pool with the kids. Rather than make a song and a dance about dinner, we just threw a few sausages and a couple of strips of pork onto one of the BBQs and I even cracked open a bottle of bubbly, which was nice.
Kids are all tucked away nicely and we're now well and truly settled in for the night. Joey has been complaining about what we think is a pulled muscle in his groin area, and has been limping and walking awkwardly for the past few hours. There's every chance we'll make a trip to the local hospital in the morning, where there's apparently a doctor on call there. We'll see how it goes in the morning.
Save