Day 4 – the relaxation of fishing
Monday 5th December 2016
Now that we're a few days into the holiday, I can feel my internal body clock slowly reverting to its natural state. This is something I've observed before – especially whilst we were on our round the world backpacking tour some 12 years ago. It's an uncanny thing. When there is no schedule or agenda to keep and when you don't know what the time of day is, your body wakes up and becomes active earlier and earlier. Just knowing what the time is affects this greatly. If I'm aware of the time, I tend to count the number of minutes in my mind to when I should wake up. Invariably, this means waking up as late as possible and also tired. If my body wakes up on its own, however, like when I'm on holiday and with no work schedule to comply with, I tend to wake up earlier and more rested, as was the case this morning. Perhaps I should just ditch the clock in our bedroom at home and I'll be much more ready for each working day.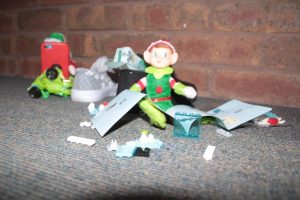 The sun was out in force this morning with a predicted high in the low thirties. Indeed, this will be the case for the remainder of the week here, and that's something I can certainly live with. Everyone else had already had something to eat but I donned my chef's hat, figuratively speaking, and laid on some delicious mini pancakes (poffertjes) for everyone. Fortunately, Sandy had the forethought to bring along the poffertjes pan to help facilitate this. We still had a few slices of Jennifer's pizza from a couple of nights ago so she enjoyed a couple of warmed up slices of that as well – best $12 spent so far, as that pizza has fed Jennifer no less than three times so far.
One of the nice things about having mini pancakes is the icing sugar that goes with them. I usually have lemon juice as well but that wasn't in our bag of tricks so I had to make do without. Once again, Joey emulated his mother's lack of restraint by dowsing his mini pancakes copiously with icing sugar, although he did take it to a new level. I brought the second serving of pancakes to the table only to find his first helping just about totally obscured with the white powder and a half empty bag left on the table. It was at this point that a tug of war played out internally with me. Do I chastise him for overdoing it with the icing sugar or do I let it slide since we're on holiday. It was touch and go for a few seconds, as I stood there, looking at the pile on his plate, paralysed with momentary indecision. The 'let it slide' argument only just won. I just shook my head and laid the second helping onto the table. In truth, it was only because I lacked the energy to slip into parent mode at that point.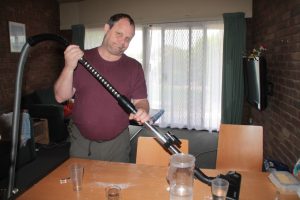 There are some parenting tendencies, however, that are just too strong to ignore. As Joey was – rather helpfully – cleaning his plate away from the table, a momentary lack of coordination on his part meant his mountain of icing sugar went flying across the room. It…went…every…where! The reactionary admonishment came rather swiftly from me this time and it sent him into a bit of a tiz. Still, it's only icing sugar, I suppose. I made a quick trip to the laundry room and back to fetch the vacuum cleaner and the mess was very soon just a memory. Joey came down from his emotional high and even came to apologize with a cuddle. In actual fact, I look at this a huge success. In the not too distant past, Joey would have lashed out if he was upset by something like this but this time he kept it together and restrained himself admirably. He calmed himself down and did the right thing. Other kids of his age might find this all second nature but Joey isn't like other kids. These are all huge steps forward for him and I'm quite pleased to see the progress he's continuing to make.
With the excitement of the post breakfast apocalypse now a fading memory, Sandy decided it was her turn to get wet with the kids and off they went to spend some R&R in the inside pool. I did pop my head in there for a brief moment but only long enough to get nearly soaked by the kids' runaway enthusiasm with their water pistols. As I wasn't in my swimmies, I decided to make a tactical retreat and went outside to spend a bit of quality time with the laptop tethered to the phone.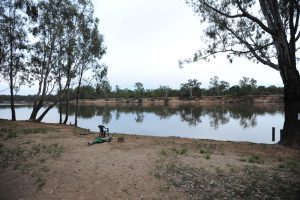 After a while, the heat outside warmed me up enough to warrant taking a dip in the pool myself after all. After jumping into my swimmies, I joined the kids and Sandy in the inside pool and I spent a half hour or so playing 'find the coin' with the kids. Essentially, this meant me throwing a few coins into the pool somewhere so that the kids could practice diving for them.
The inside pool also has a small sauna – perhaps big enough for six to eight people (assuming they are very good friends) – and I switched it on to see whether it was any good. As it turns out, it was really quite nice and both Sandy and me each spent a few minutes in the dry heat. I just love that smell of…well, whatever that type of wood is they use to build saunas with.
The fun and frivolities in the pool ran its course and we all dried off and rested for a bit back in the unit before heading out to lunch at the nearby Maccas. Since I brought my fishing tackle with me, I wanted to stop off at the nearby fishing tackle shop to inquire about fishing options here on the lake and along the river. The local at the tackle shop was also the same man that advertises boats for hire on the lake and he was extraordinarily friendly and helpful. He showed me on a map all the best spots along the river and gave me some good advice on tackle. I ended up buying a landing net (mine is back home in the garage still), some larger hooks needed for the type of fish I'm likely to catch and some bait, which as it turns out is worms and cheese blocks. As fishing in the river and lake are governed by the New South Wales authorities, I also picked up a three day NSW fishing license whilst I was there.
So, armed with all the paraphernalia now needed to do some real fishing, we set off to scope out some of the locations Mr. Helpful advised. The first of these was on the bank of the lake just on the edge of town and not far from the inflatable assault course we spotted the other day. As it turns out, there's a playground there and a bit of a water play feature. As a fishing spot, it seems perfectly adequate and I might go there tomorrow with Joey. The kids spent a little time in the playground area before a late afternoon storm looked like it was rolling in, so we jumped into the car and made our way back into town. The Ice Creamery caught the attention of the kids so we doubled back and slipped into a parking spot right outside it. Why not? We are on holiday after all. Unfortunately, they didn't take EFTPOS and neither of us had any cash in our wallets so I popped over to the IGA on the other side of the road to pick up some bread and ready cash. I walked back across the road and into the Ice Creamery…but Sandy and the kids weren't there. Um, OK. The man behind the bar asked me if he could help (code for what can I sell you). Um, right. Well, I had a family at one point, I told him, with a somewhat vacant expression. At this point, my phone dinged and there was a message from Sandy telling me they had gone looking for a toilet. Phew! Anyway, they eventually showed up, a little wet from the downpour that had by now started, and we mortgaged the house for the privilege of a couple of ice cream tubs each. To be fair, it was very good ice cream and I guess you have to expect to pay a bit more for things in a holiday town like this one.
Having eaten what we could from our ice cream tubs (which in my case was all of it but not so the kids), I relaxed my Daddy rule of 'no food in the car' just long enough so we could get home and salvage the un-eaten quantities both kids still had left. I wanted to scope out some of the other potential fishing spots but between the muggy air from the ongoing storm and the fact that the day was now wearing on, the kids were getting a little tired. We decided I'd drop the family off back at the unit and continue my scoping alone. I went to two spots that the fishing tackle owner advised and the second of these did look really quite perfect. With my master plan now firmly embedded, I headed back for a late-afternoon rest.
Determined to get some fishing in today, I gathered my bits and bobs and loaded the car ready for departure by around 5pm. Jennifer had managed to secure a spot in front of a neighbour's TV to watch a movie with some of the other resort kids whilst Joey and Sandy enjoyed some quiet time. The one thing I didn't have that would make my fishing trip viable was something to sit on. Fortunately, there are some plastic chairs next to our unit at the rear so, doing my very best Mission Impossible impression, I surreptitiously loaded one into the back of the car. The last thing I needed was the camera, as I was certain I was going to catch lots of fish and wanted some way to record this.
So, I made my way to the fishing spot, which is about a five-minute drive from here, albeit along a dirt road through a forest in the middle of nowhere. There were perhaps two other anglers that I could see along the bank of the river, which at this point is about a hundred metres wide. I picked a spot not far from a boat ramp where there was a nice gap in the trees, so I could cast without snagging. Now, it usually takes about 5-10 minutes to set everything up…usually. I have with me two rods, both of which have a couple of rests that need to be set up. One of these has an automatic alarm that detects movement of the line to let me know I've caught an enormous fish. Sticking these things together and thrusting them into the ground was straightforward enough. However, as I am going to be fishing with worms and cheese, and a slightly larger hook than I currently have set up, I need to re-work my configuration accordingly. This means I have to remove the hook assembly, create a new hook assembly with the larger hooks and then connect it all together again. As you might imagine, it's quite fiddly work and requires a lot of attention to get the line through the small holes and so on. I have to concentrate quite intensely to do this – especially with my dodgy eyes. Now, whenever I concentrate, I obviously release a certain type of pheromone, which instantly attracts hoards of swarming flies – the really persistent little shits that seem hell bent on wanting to land on my eyes, lips, up my nose, in my ears, etc. But…I had the forethought to bring my new electrified tennis racquet fly swatter that Sandy bought me earlier in the week, so no problem, right? So, just as I concentrated on getting the fishing line aligned with the hole in the fiddly little thingy, about six flies immediately zoom in on my concentration pheromones. I immediately grab for the swatter and waft it around my face frantically. The bloody thing hits my nose and zaps me, causing me to drop the little fiddly thingy and line. Shit! Let's try this again. This time, I pick up the hook and try constructing my assemblage from the other end. Once again, just as I get the line about to thread through the hook, another half dozen flies swarm in and buzz around my face – one even goes up my nose, causing me to involuntarily exhale sharply and I this time I snag myself on the fecking hook! Ouch! Again, I reach for the electric swatter and waft it around me like a raving lunatic – all to no avail. The little shits are just too bloody fast. No matter how quickly I try to waft it around my person, not once was I able to connect with a fecking fly all afternoon. Bastards! It took me half a bloody hour just to get myself set up and the line and bait ready to cast into the ruddy water! So, finally, with a deep inhale, I line myself up and get ready to cast out into the calm river. I pull the rod back, release the reel lock with my finger holding the line again the rod. In a smooth and continuous motion, I elegantly launch the rod forward, release my finger and…the entire hook assembly snags in the tree just off to my right. Shit! I tried several times to gently pull it loose but it won't budge. Getting progressively more aggressive with it, not to mention frustrated, I finally manage to pull it free…minus the hook assembly, which has evidently come loose and is now stuck in the fecking tree. Shit! Now I have to go through the motions of constructing a new assembly again – which includes fighting off yet more persistent little flying shits! So far, this fishing trip has really been relaxing!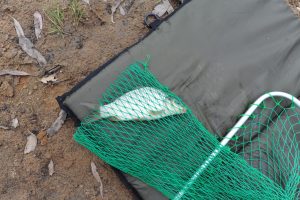 So, an hour into my peaceful fishing trip, I finally have my two rods set up and both lines in the water. By now, I'm tired, sweating, muggy and irritable. I slouch into my chair and sit there, taking several, slow, deep breathes. And…calm descends. I sat there for about half an hour with literally nothing happening. But that's OK. That's what fishing is all about. The calm. The serenity. The zen-like nothingness of it all. It's the reason I'm here and I was able to finally relax. I don't know how much time passed. I don't think I cared either. There were a few twitches on one of the rods. I sat up in my chair and reached for the rod – but didn't touch it. My hand just hovered there, my eyes fixated on the point at which the line entered the water. My hand hovered for about a minute – all the while staring intently – but the twitching stopped and I relaxed again back in my chair. This little pantomime played out a few more times over the course of the next half an hour. Each time, it ended with me relaxing back in my chair again. Eventually, I decided I might reel that line in to see if the bait was still attached. I got up and gently reeled it in. Wouldn't you know it, there was a bloody fish on the end of the line! I quickly photographed it. I had gone through hell and high water to land this baby and I wanted to make abso-bloody-lutely sure there was evidence of it!
As it turned out, that fish was the only one I caught during the three hours I was sitting there, continually wafting the little shits out of my eyes and ears. Dusk started to set in, so I packed up and headed back home. In actual fact, I did enjoy myself whilst there – despite all the failed casts, lack of fish, snagged lines and pierced fingers from sodding about with those dammed hooks. I guess you need to be an angler to understand.
Back at the unit, Sandy has organised tonight's elf setup. Since we arrived, we have had two elves that have been getting up to mischief each night, so the kids have something fun to wake up to. Fortunately, they are still both buying into the whole elf on the shelf thing and neither of them has caught on yet. I don't know how long this innocence of theirs will last. I'm just happy we have it for now.
Tomorrow is a new day. We'll see what it has in store when we get there.